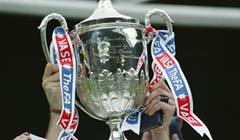 The Latest News from Silver Street
Members of the Toolstation League
HEADLINES
Season's Fixture's now out (copy and paste the link below)
http://football.mitoo.co/LeagueTab.cfm?TblName=Matches&DivisionID=14348&LeagueCode=SDWFL2014
FA CUP AND FA VASE DRAWS MADE - Rovers get home tie in FA Cup and difficult tie away in the FA Vase / Team back in pre-season mode.
Rovers bagged mixed fortunes in the early round draws for the 2014/15 FA Cup and FA Vase competitions. In the FA Cup the route to Wembley (!) – Though more importantly for the likes of Rovers – the way to bank serious money – begins on Saturday August 16th with a HOME game against fellow Toolstation League outfit RADSTOCK. The winners will receive £1,500. The winners of that game will then, a fortnight later – on Saturday, August 30 – travel to either TORPOINT ATHLETIC or ODD DOWN with the winners of that banking £1,925. If still in the competition then Rovers will play a 1st Qualifying Round tie on Saturday, September 13 when £3,000 is up for grabs and the opposition would be one of SHEPTON MALLET or ILFRACOMBE TOWN or SLATASH UNITED or WELTON ROVERS. In the FA Vase, a competition which offers the likes of Rovers the opportunity to go much further – but offers far les financial winnings – sees a 1st Qualifying Round tie on Saturday, September 6, away at South West Peninsula League champions PLYMOUTH PARKWAY. The side winning that will bank £600 and then face a trip to KEYNSHAMTOWN in the 2nd Qualifying Round on October 4 and in that game the winners will bank £800.
The full list of 1st and Reserve team friendlies is as follows:
Tiverton Town, (HOME) Saturday 12th July, 3pm Lost 3 v 1
Bovey Tracey , (HOME) Wednesday 16th July, 7.30 Won 6 v 2
Ivybridge Town , (AWAY) Friday 18th July, 7.15 Drew 2 v 2
Taunton Town , (HOME) Tuesday 22nd July, 7.45
Exwixk Villa, (AWAY) Wednesday 23rd July, 7.00 reserves

Dorchester Town , (HOME) Saturday 26th July, 3pm
Teignmouth Town , (AWAY) Tuesday 29th July, 6.45
Cullompton Rangers , (HOME) Saturday 2nd August, reserves 1.30pm 1st 3.30pm .This match is the Simon Hill Testimonial match for 10 years continuous playing service to the club.
Honiton Town (HOME) Wednesday 6th August 7.00 reserves
Bickleigh (TBA) Saturday 9th August tba reserves.

West Exe (AWAY) Wednesday 13th August 7.00 reserves

BINGO. Tuesday 29th JULY..
POKER NIGHT Friday 25th JULY 8pm...
1970's FANCY DRESS/DISCO 16th AUGUST 7pm, £2 entry..
Check out the pictures from the Under-15 game now at
https://picasaweb.google.com/madmitch01/2014_05_15WillandRoversU15S4v0BridgwaterVPRCUPFINAL?feat=email#6014059374125433922
See the pictures from the 2-1 defeat on the artificial surface at Winterbourne at
https://picasaweb.google.com/madmitch01/2014_03_22Winterbourne2v1Willand?authkey=Gv1sRgCJOunrfxx8bMRA&feat=email
Saturday Morning Footie - Saturday morning Junior football continues at Willand Primary School. Kevan Davies is the driving force behind this exciting project which we hope will lead to a Third youth team playing for the club from next season. However, one position that Kevan is keen to fill is that of Goalkeeper - If anyone knows of a youngster who would like to become the Under 10 Keeper for next season (starting in a league from September 2014) then please do get in contact with Kevan on 01884 839436 or 07944 091028.
Search for Groundsman - Rovers are searching for a groundsman and anyone interested in the post is asked to get in touch with the football club on 01884 33885.
Match Reports – Reports from all games can be found under match reports

The opinions and views made in general on this website are most certainly not neccessarily the opinions or views of the of Willand Rovers Football Club, management committee. See archived news for more Rovers info....
---