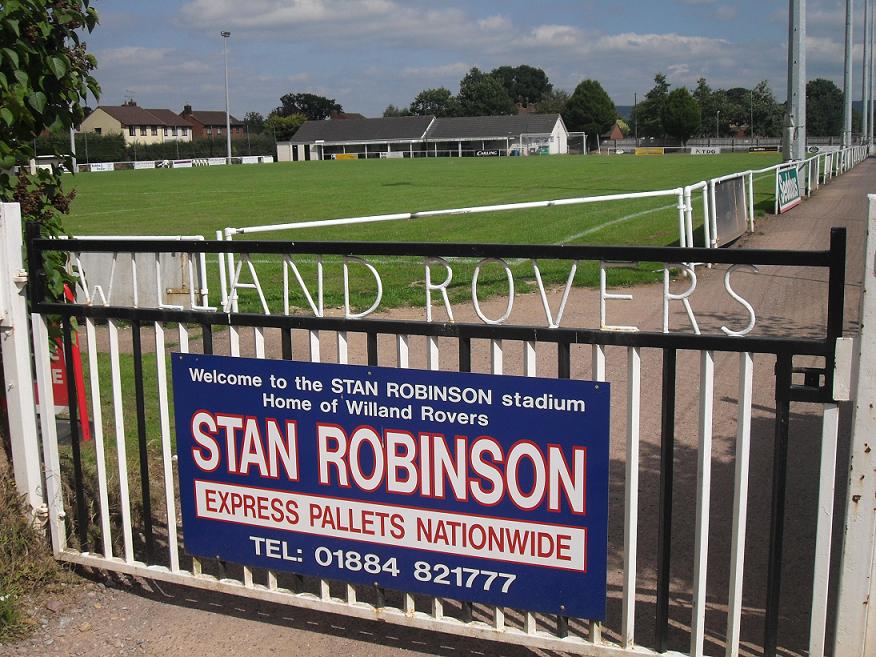 Willand Rovers FC
The Toolstation League
Members of the Toolstation League
"very much a family club"
WEBSITE KINDLY SPONSORED BY WILLAND ROVERS YOUTH
The opinions and views made in general on this website are most certainly not neccessarily the opinions or views of the of Willand Rovers Football Club, management committee.
The latest from Silver Street
Jee family enjoy a great Wembley day / Rovers Youth teams bring home THREE awards from Taunton Youth League Awards Night / Rovers matchday programme in top 30 out of 1,000 Non-League programmes.
(NEW LINK WITH 294 PICTURES) SEE PICTURES OF THE LPC WIN at
https://plus.google.com/photos/106481448529677945455/albums/5874972370468939425?gpinv=AMIXal_H4lSRicz39Mu-_wZAOe5o8iMgHWuzpWFEbIWgA8ZVHFsufg3fp375kEGQgpTq2BdsnYDX4Gx8LEgAtWwuAvn0G4gB6SpOPyzsvoUSghLn-TaCre0&cfem=1

Ian Patchett was on the Rovers players' end-of-season tour, and here is his report: " We are now back from the trip. We took in all the sights that there are in Newcastle, had a tour of St James Park and that was something everybody really enjoyed! Aidan Way and Jake Wannell were even lucky enough to get tickets to watch the Newcastle versus Arsenal game. The tour award goes to Joey Hawes was kept all of the group entertained with many funny stories and memorable moments. Danny Jee and James Ansell were two members who had to wake up at 7am on Sunday morning to get a train to London for the League One Play off final. True dedication to the Glovers. Star player Jake Wannell has said that he cannot wait to get back to pre-season training for the 2013-2014 season which most surely is GREAT news for all Rovers supporters."
The Jee family had a very special Sunday! Big fans of Yeovil Town, they were on parade along with the hoardes of Glovers fans at Wembley to see Yeovil complete a 10-year climb into the top flight of English football from the Conference. Danny Jee made a mad dash from the players end-of-season Newcastle tour to join other family members at the stadium. Danny is set to miss ALL next season as he is off on a trip-of-a-lifetime starting in Asia and culminating in a visit to Brazil for the 2014 World Cup - have fun Danny, take care and see you back at HQ for the 2014/15 season!
Rovers youth teams returned from a glorious night at Taunton Town Football Club which staged the 2012/13 Taunton and District Youth League Awards Night with THREE trophies to adorn the Silver Street Clubhouse trophy cabinet. It's the sections BIGGEST haul of trophies in a single season. The Under-13s were on duty with skipper Kieran Fry, Matt Smith and Aaron Marks whilst on parade for the Under-14s was Jordan Biss, son of the Rovers youth secretary and grandson of the Willand Rovers Football Club chairman. In terms of the awards, the Under-13s picked up the Under-13 Division Two title and were additionally lauded on the night as being the ONLY side across all the divisions in the league to come out of the playing season with a perfect 'won-ever-game' record. The Under-14s were present to pick up the shield for coming runners-up in the Division One and then it was announced that FOR THE THIRD YEAR RUNNING the Under-14s had won the age groups MOST SPORTING TEAM honour; the latter is an achievement all concerned with the team are so proud of. Under-14 coach Steve Birley says: "This award speaks volumes for the way we run this team and, perhaps more importantly, the people close to the team. By that I mean the parents. To have won this award in three successive season's is not merely a unique hat-trick, but it speaks volumes for us all. I'd like to thank Clive Jones – for me the best football person I have come across – some statement I know given who I have had the fortune to work with and along side – but this chap really is up there with the best, but then John Biss is the best organiser I have ever come across in any walk of life! The parents of the boys have been fabulous. Yes, we have collectively had our moments. We all want to know why the lad is not playing and we all (sometimes) wonder why a match official made that decision BUT fundamentally we all seem to understand that there is a 'proper' way to play the game and to carry ourselves on and off the pitch and I am very, make that very, proud of every one of the players and the parents and other supporters to whom this hat-trick is most certainly dedicated." He concluded: "Now I am off to enjoy some cricket (hopefully in some sunshine!) and will come bouncing back for another season in August."
There is the not so small matter of the PLAYERS AWARDS PRESENTATIONS which we intend to stage on either the FIRST or SECOND Sunday of June – more on that to follow.
The Rovers Matchday programme was edged out of the top 25 in the National Non-League Programme awards by Buckland Athletic – the Homers Heath outfit came 23rd nationally out of the 979 entrants whilst Rovers were placed 26th. ChelmsfordCity won it, Marske United were second and Epsom and Ewell were third.
The highest placed Southern sides out of the near 1,000 entries were PooleTown (16th) and Chippenham Town (18th). Rovers programme editor Steve Birley said: "To come in the top 30 is a fabulous achievement though it is disappointing not to be top dog n the Toolstation League. I had thought that Buckland would win it as their match day offering has, year on year, been a real hit and hat's off to them for once again delivering the goods. I'd love to pass the job on to somebody else now. I have done it for four years and each season has got tougher. It really does take (the way we do it) a lot of man hours, starting with the 'on-average' six just for the editorial content, then there's the photo-copying which Rob Mitchell and Trevor Stamp have been doing – and then the pair have to find time to fold and stitch them all. What has made this season so tough has been the cancellations – in all we had NINE programmes that we were edited, but never used owing to match postponements, and that adds to the frustrations of a football, programme editor. If anybody would like to take the job on I'd love to hear from them, they can e-mail me at stephenbirley@aol.com. I'd be happy to show them the ropes and guide them through the process."
The Reserves lost their final game of the Fresha League season, beaten 2-0 by St Martins which leaves the side finishing third in the Premier table. However, it seems highly likely that just ONE side will be relagetd and that will be either Exmouth Amateurs or Budleigh Salterton Reserves.
The Rovers Under-14s lost 2-1 to double winning Wembdon on Friday night, since the game we have received this email from the Wembdon boss Tim Hembury: "Hi Steve; We as a team would like to thank you and your lads for being great hosts at the game last night. It was a really nice touch to give us a guard of honour and the plaque was a bit special, and will be displayed when our clubhouse is built. You and your team are a credit to youth football, and we look forward to locking horns with you next year, relax now and have a great summer. Cheers Tim."
ROVERS football secretary Tony Baker was delighted to be able to announce on Friday that the club is to welcome an UNder-18 side to operate as Willand Rovers Under-18s and play in the County League next season. The team are switching from CulmSampford and have playing this season as an Under-16 side in the Exeter and District Youth League. Tony says:
"It's fantastic news. Nick Miles and Steve Hayfield run the side and are both very enthusiastic about the relationship between us. They will now become Willand Rovers Under-18s and play their home matches - in association with our two Taunton and District League sides, out of Silver Street - and when Silver Street is being used either by Under-14 or Under-15s next season, they wil play fixtures at Magelake but socialise back here at Rovers. It should now create that all important bridge between youth football and the Rovers's senior sides."
Brian Cann had what could only be described as: 'The prefect day' when he bowed out, like Rovers boss Clive Jones after 15 grand loyal years of service, with that les Phillips Cup final success over Hallen on bank holiday Monday. For the Dunkeswell-based glovesman it was so fitting that his final game in the shirt of his beloved Rovers should see him keep yet another clean sheet to add to the volumes of previous shut-outs he's had in those 15-years of service to the Silver Street cause. Canny – as he is more affectionately known, said: "It really was a very special occasion and without doubt I could not have wished for a better final game – and for Clive (Rovers boss Clive Jones) too. What humbled me most of all was the amazing gesture from a very special player in Scott Rogers who, though awarded the Man of the Match for his gigantic performance in the final later handed it over to yours truly to act as the ultimate moment of my time with the club. To go out on such a high is the stuff of dreams and that incredible gesture by Scott epitomises everything that Willand Rovers FC is all about – one big happy footballing family. Of course there are going to be squabbles along the way – what family lives in absolute harmony! The family feel of the club is so much down to the hard work of Clive and the chairman and the other good folk who sit at the top of the management tree at the club. Me personally, I have had a ball, 15 years has, well it seems it now, flown by, and yes, it's a lot easier to be happy in sport when you enjoy unbridled success, which we undoubtedly did as a team over the 15 years, but you still have to put the work in to achieve things and that's another great attribute of Clive that he demands players work, work and then work some more so that when the good times arrive, you know you've earned the right to enjoy the glory moments. I'd like to thank, first and foremost, the players who I have played alongside over the 15 years, too many to single out and it would be unfair to venture into the realms of the best one etc, so I'll just thrown a blanket over them all and say: "thanks lads, it really was a pleasure to take to the pitch with each and every one of you." I'd like to think I'll get the nod for a future Legends game – those have proved to be fabulous social occasions and I think another example of keeping it in the family so to speak. The biggest vote of thanks has to be to the rank and file support at the Club. What a fantastic bunch of supporters we are fortunate enough to have there. Again I can't single out individuals, suffice to say there are some very special followers – thank you one and all. Last but not least, thanks to the people that are charged with looking after the club and the fact it is such a special organisation is testament to the efforts and hard work put in by the likes of Mitch (Rover chairman Mike Mitchell) and his committee. Yep, I depart with a tear or three, but more importantly with thousands of fantastic memories of a wonderful 15 years at Willand Rovers."
Departing Rovers boss Clive Jones reflected on a wonderful final send-off with the winning of the Les Phillips Cup when Rovers saw off Hallen (managed by the Rovers' bosses great footballing friend Paul Owen who was also marking his final outing as Hallen boss!), he said: "It was a very special day all-round. I was surprised, even humbled, to see the tears at the end, especially when we got back to Silver Street to round off the cup winning celebrations. Of course it was all very emotional and I guess when the tars are delivered it merely underlines the strength of feeling some people have for you and that is very, very humbling indeed. I have said before, Willand Rovers has been like part of my family for umpteen years now and, god willing it'll always be dear, very dear, to my heart. My association will continue in as much, certainly for the foreseeable, son Sam will be playing (as long as he keeps enjoying it and being good enough for a place) in the Rovers Under-14 team so I'll be there every step of the way with the junior Rovers next season (if they'll have me that is!). With regard to what I am going to do, I can honestly say, hand on heart, as the second weekend of May comes upon us, I have nothing set yet. What I do intend to do is to enjoy some cricket for the next couple of months. I love the game and am looking forward to the annual visit a group of friends and I make to watch major cricket – this year we are taking the early June England Australia game at Edgbaston. I am also looking forward to savouring the very special atmosphere at Heathcoat Cricket Club which has undergone that fantastic change over the winter which I was actually part of, albeit in a minor way compared to what some lads did, but that development over there is very special indeed and I am looking forward to watching (and who knows maybe even playing) a bit of cricket – and drinking a pint or two! As for where my football kit gets laid next – that really is in the lap of the footballing gods. Yes, there have been a couple of calls and I am grateful to those who have called to offer me things. Nothing has yet jumped out at me and I am a bit of a fussy sod when it comes to my football so we will just have to see. I guess it could be one of those wait for late September early October when some poor so-and-so gets the chop at his club and then a door might open for yours truly!
Rovers Under-14s have been told by the Taunton & District League that if they do not play their outstanding remaining League game against Wembdon then, under league rule, both Rovers and Wembdon will have ALL their points from the season removed -this would mean neither side would finish 1st or 2nd! Under-14 boss Steve Birley explained saying: "We were told following a League meeting this week that the game HAD to be played. The original date was set to be this THURSDAY (May 9) but Cullompton School Under-14s are in the Devon Schools U14 Cup Final at Newton Abbot at 4pm and six of the squad will be involved in that game. We then looked at Sunday (May 12) but Wembdon were unable to make that date as they have their presentation evening the night before. After speaking with Tim at Wembdon, he felt, like me, that there simply was not enough time left in the season now that Cricket and other summer sports had kicked in and so as they (Wembdon) were clear champions and we were clear 2nd there seemed little point in playing the game when other matches have been subjected to walk-overs this season. Now comes the bombshell threat that UNLESS the game is played then ALL the season's points will be taken off BOTH teams! The game will now have to be played on Friday, May 10 at Silver Street (Kick-off 7pm).
ROVERS lifted the Les Phillips Cup on Bank Holiday Monday thanks to a 54th minute goal from Owen Howe. Rovers bossed the game throughout and its a measure of how much control they enjoyed that the first save keeper Brian Cann - also making his final appearance in his beloved Rovers shirt - had to make was on the hour mark. In a game of few chances the best of the first 45 minutes fell to Scott Rogers who, having got into a great position one-on-one with the Hallen glovesman, saw his chip over the keeper go a foot wide of the upright. The game's decisive moment came in the 54th minute when master-marksman Owen Howe struck in open play - his 20th goal in just 22 appearances - has a single player ever made such a huge impact during the boss's 15-year reign? That was the moment and thereafter Rovers saw the game out. For Brian Cann who, like his great friend manager Clive Jones was involved in his last ever game for the side in terms of the Western League matches, kept his umpteenth clean sheet and at the end of the game it was celebrations all round as team and two coach loads plus lots and lots of vehicles full of Rovers followers enjoyed the moment. WELL DONE TEAM AND WELL DONE (and thank you ) CLIVE JONES.
Rovers chairman Mike Mitchell gave a candid, heart-felt, and sometimes emotional interview to the Rovers website on the day that Clive Jones led a side out of the home dressing rooms at Silver Street for the final time before he left the managerial hot seat. Speaking prior to the kick-off of the Rovers Veterans versus Plymouth Argyle Legends game he said: "Clive and I have been together in terms of a football club pairing of chairman and manager for 15 wonderful years. I totally respect his decision to seek a fresh new challenge. I am not surprised, nor, in a strange way am I disappointed because he and I go back such a long way, far, far longer than the afore mentioned 15 years as chairman and manager. Our knowing of each other goes back 27-years to our first meeting in 1986 when he played a season here for us. Then we bumped into each other again in the early 1990's by which time he was at Bideford and I was approached to go up there and run some pre-season training. That was where our friendship began to really develop. Then came his injury woes and we met up again in football terms in 1997 when we were looking for a manager here at Silver Street and he cleary felt that with the injury ending his playing career at the highest level locally he wanted a fresh challenge and the rest as they say, is history, for he stuck around for 15 wonderful years!"
The chairman continued: "In those early days of Clive here we were a village club competing in the CountyLeague and here we are today, fully established as one of the leading sides in the Western league. Where we are today is wholly down to the enthusiasm, dedication, passion and desire of Clive Jones. Without him and his input I don't think we'd be where we are today. The bottom line nowadays is, in general, people want to come here and play in the Western League Premier Division, that's how far our stock has risen over the 15-year reign of Clive. Our friendship has exceeded the normal boundaries of a manager and a chairman for we have become really good friends and that will remain in place of that I have no doubt. He was my best man when I married my wife Jenney and he asked me to be his best man when he married his wife Carole. In terms of the achievements under Clive. I think the team of 2009 was probably the best he put together. That was the season when the FA Vase run took us as far as the replay at Barwell when, still to this day, I feel with a little more luck we'd have won and then who knows where that season would have gone. Yes, we have had so many good years and plenty of laughs along the way. The day he agreed to become manager we drew up a contract between the two of us. It was very straight forward. Each game, if Rovers won then I'd buy him a pint of Tetley and if the opposition got the better of us then he'd be putting his hand into his pocket to buy me that pint of Tetley. It's fair to say that over the years he has had a few more pints out of me than I have had out of him! One thing I have tried to foster over the years here at Silver Street is a feeling of us being a big happy footballing family. Nowhere is that epitomised better than with our current general seretary, Cath who is of course the daughter of the late and footballing great, Eric Potter who was always my footballing hero when he was playing for the club and now his daughter holds a high position with us. Clive has helped very much in the ethos of this being a family club for it is very evident that there is a great spirit amongst the players and that has consistently been the case during all, his time with us. Even events like the coming together of the Rovers Veterans is all down to him – to see 18 former Rovers players turning out for the club (and for Clive) against Plymouth Argyle Legends, is testimony to his standing in the eyes of people inside an outside of the game of football. How do I feel about him leaving? It's upsetting of course, I feel like I am losing a part of myself, but there always is that feeling of everything being okay, if only because this decision is one of Clive's making. He's happy and content with that he is doing and when things come to an end after such a wonderful period of time, its the best way for that to happen. It's a fact that I had been ready to offer Clive other things to do here at the club for we have plenty more to work on and indeed achieve, But I respect that he wants a clean break and that means a new challenge elsewhere and I guess we will have to get ourselves ready for the day he comes back here managing an opposing team! As I understand it we've not seen the last of him here for his smashing son Sam will continue to be involved with the Rovers youth team. He (Clive) will always be welcome back here both as a friend of mine and the club's and also a football person – we owe him that debt for the volume of work he has done to get us where we are today."
He concluded: "In terms of a legacy of Clive's and his time at Rovers. That's easy to sum up. Without doubt, we are where we are today as a football club thanks to Clive Jones. I can offer no higher accolade or endorsement of his fantastic work."
Next up we spoke with the chairman about 'life after Clive Jones'. He said: "As chairman of the club its always something you have in the back of your mind, the old question of: 'what if the manager leaves, where do we go from there'. Clive and I had spoken at the end of last season when it became apparent that he may fancy a change. That did not come to fruition, but I know the initial thought was there with him. Then we got into a mess last Autumn and, typical of the man he is, rather than step aside he dug deep, set us right, and got us back on an even keel. There was someone who approached me at the start of this season and said: "what if Clive goes, what next, I'd like to be considered'. So that is precisely where we are with regard to a replacement. There's no names yet, for it would have been wholly wrong to be openly discussing the future without Clive Jones whilst Clive was still in situ. That of course changes after the Les Phillips Cup final after which the curtain is drawn on the season. My plan is to allow the dust to settle and then open talks with this person. I must say I want the work of Clive Jones to continue. We have a family club here and it is very important to me that that is the theme that continues. The person in question would, I believe, embrace that line of thinking and we'll have to see what happens. What I do feel is important is that the new person is in place long before the pre-season so we can again next season hit the ground running."
Rovers veterans and Plymouth Argyle Legends produced a superb show in the May sunshine at Silver Street in what was a most poignant occasion as it marked the FINAL time that Rovers boss Clive Jones will lead a team out at home in Willand colours (unless of course he returns to lead Rovers Veterans in the future?) – Argyle stated after yesterday's game that they certainly WANT to make it a third year running with a game in 2014! It really was a cracking match that was in the balance until the final few minutes when the Legends scored a winner to claim a 3-2 victory. Rovers were led out by John Pengelly (very much a Rovers LEGEND) who earlier this year had been in serious health woes) - but he got through the whole game - as competitive as ever. Andy Rawlings was the star of the show in a Rovers shirt wholst two of the club's Under-14 team, Dan Foweraker and Sam Jones played in the match late on. Young Foweraker at the heart of the Argyle defence and young Jones, at one time on the same pitch as his Dad Clive, was put up top by the veterans.
See pictures of the match at:https://plus.google.com/photos/106481448529677945455/albums/5874556663511228945?gpinv=AMIXal9g0uoRypXgdXwdPq1RnaZU1LIWgS31DLVbOtJ7r9l28PaM01i_FHg2Isgk9RbbD6I1IXAMSFOqTS2ksZj3siul8sEMZBFUkYAvKZZWhHGCsybhbp0&authkey=CMalnPfApM32dA&cfem=1
Rovers Reserves stormed back from 4-1 down to bag a share of the spoils in an eight goal Silver Street thriller with Newtown. There were four different scorers for Rovers; Sam Williams, Dean Stamp, Chris White and Paul Pocock, the latter nailing a 30-yard screamer to mark his final appearance for the club in real STYLE. Reserves boss Rob Buxton says: "That was a very special performance and one that showed just how much character, bottle and guts this team has! Chris White and Dean Stamp put in extraordinary shifts. Special mention must go to Pokey (Paul Pocock) – so fitting that he netted such a terrific goal in his final game. For the club he has been an absolute legend and a great help to me with the team." The Reserves' boss continued: " I would very much like to wish Chinky (Clive Jones) all the very best for tomorrow with the team. Lifting that cup would be such a fabulously fitting way for a Rovers legend to end a magnificent career at Silver Street,. I hope they do it as he deserves it. Over the years he has been such a great help to me and I am really hoping the boys lift that Les Phillips Cup to give him the send-off he undoubtedly deserves."
Rovers were 2-0 winners at Melksham in the final away game of the 15-year Clive Jones managerial reign. Owen Howe netted his 19th Rovers goal in 21 appearances and there was also a goal from Khaled Badavi. The win means the team will finish tenth - but could slip one more place IF Buckland defeat Street in the League's last remaining fixture on Wednesday.
A Rovers Under-14 team with just ten players owing to unavailabiity slipped to its HEAVIEST EVER defeat, beaten 7-1 at second from bottom BRIDGWATER VPR. An injury sustained the night before led to Tom Mortiboys having to play in goal (how well did he do bearing in mind the pain he was clearly in!) and so regular glovesman Jordan Biss took his place out-field in a three man defence. Two Under-13s, Kieran Fry and Connor Pengelly both played - and certainly again did not look out of place. Take a bow also the other six who made up the brave ten; Sam and Jack Rawlings (the twins were emmence throughout), Phil Andrew) despite injury, gave his all and would still be playing deep into the night for the cause if he had too!), Will Birley, Ryan Shrewsberry and Tom Bushby. Rovers were 4-0 down at half-time and yet bossed the second half, but missed some gilt-edged chances and shipped three more. The home team coach applauded the play of the magnificent ten, but there is no escaping this was an embarrsing score line for the team and the management, the latter feeling VERY DOWN on the journey home!
Rovers are honoured to be able to announce that they have been chosen to stage the Exeter & District Youth League Finals over the weekend of May 18 and 19. It means that Silver Street will host no fewer than 16 finals over the two days as age group cup finals and Plate competitions finals will, be played across the two days. League chairman John Penkethman viewed Silver Street earlier this week and opted to bring the Finals weekend to us after ExeterCity said that St James Park was unavailable. Rovers groundsman Rob Mitchell then met with John (Penkethman) and now the League has said they'll be staging all the finals at Silver Street – this is a huge coup for the club – and also a great honour!
ROVERS BOSS Clive Jones has given the club notice of his decison to step down as manager after the final game of this season. After watching the Rovers Under-14s team win 4-0 at Holway to wrap up the runners-up spot in the Taunton and District Youth League, he took time out to say the following: "I feel that this is the right time for me to depart my beloved Rovers. More than anything I do feel I have deserved the right to leave under my own terms and that's why now is a good time to make the move! I have had a ball for 15 wonderful years and yes, there'll be some who will no doubt feel I should have been on my bike before now. Certainly in the darkest days of last autumn there were one or three individuals that would have been of the view: "time to go now Clive lad!". I have had five assistants' managers up to and including Andy (Barnard – the current Rovers number two) and they have all played big parts in my happiest times. Fifteen years ago I too up the post and was honoured, highly honoured. Just then I had finished my own long playing career after my cruciate went playing up at Bideford. I had a spell as the assistant to the then Bideford boss, my great footballing mate Peter Buckingham, and then was happy training with Rovers to try and see if I could extend my playing time. And so it was that they offered me the post. Mitch, Duffy and bacon were the three at the time and they decided I was the right person then to take the club forward. I recall at the time more than one person questioning my very sanity with the move. I heard in one or two quarters: "Clive, are you crackers, what are you doing moving to run a village club?" Well 15 years on I think I have answered that – and pretty well too! What I feel is very important is for me to put across, as I depart, just how big a part of my personal life this club has been. In the past 15-years my son (Sam) has been born, I've been married, divorced and married again. There have no doubt been times when football has been put top of the list with regard to the family and many a true footballing person will empathise with that line of thought! Looking back to the early days I must thank the 'initial three' Mitch, Duffy and Bacon, who are of course still part of the Silver Street furniture. Is there a better football chairman than one Mike Mitchell? I don't know, I have yet to discover that. No doubt I will for I am intending to stay in the game. But let's be clear on one thing. From minute one of day one of the Clive Jones affair with Willand Rovers I have never sought other football employment. There have been times of course when others might have said that I ought to be applying for this job or that particular job, However, I like to think as a genuine footballing person, loyalty is a big thing and I have shown that to my beloved Rovers. But, as in all walks of life and many different circumstances, there comes a time when you realise that perhaps a break is best for everybody – that's come now and this is the right time for all concerned to move onwards. Hopefully, and I am sure they will, certainly with the likes of Mike Mitchell at the helm, Rovers will go on to even greater things. There'll always be part of my heart that sits in this particular club. I was asked by someone if there was one thing I would wish to take with me to wherever I go next with my tracksuit, what would that be? That one is very simple to answer – Steve Birley – why? Because over the past few years he has been my ghost writer and I am sure I would never have been able to be portrayed as such an intelligent human being had it not been for his artistry with the pen! Another thing I have been asked recently is do I have any regrets about the 15 years association with Rovers and what, if any, is the biggest single regret. Well, this might surprise some but I have no regrets. Certainly for what is after all a village club – and never let that be forgotten. We have had a great run together. I don't even regret not winning the title, runners-up was our best season but you know, as I just said, the fact that we are operating and always will be as a village type side, simply to come 2nd in the Toolstation Western league is a huge achievement. Of course it would have been nice to have done a tad better in the FA vase. Those two meetings with Barwell a few seasons ago were the ones. We had aside that took us closer than ever before to FA Vase glory – but it just was not to be. The one thing I do take with me is that 15 years on, we have been able to survive and prosper when many sides have fallen off the footballing map – and I think that makes for a huge achievement for all concerned at Rovers that the club has continued to proper whilst others have fallen away. I must thank the very good people at the top of the hierarchy at Silver Street for they stood by me in what were undoubtedly dark times last autumn when the ugly possibility of relegation was being talked of. That was not a good time and I think it would have been very easy for the committee then to say enough is enough. However, the chose to let me try and put right what had clearly gone wrong and I think we did that. We are going to finish in the top half and we have just been edged out by the narrowest of margins in the Les Phillips Cup semi-final and so, whilst set against the incredible record of, until this season at least, of having never finished outside the Premier Division top six, some might say this term has been a poor one, but I again point to the size of us as a club and the sort of level we play at against clubs with enormous playing budgets – we have not done too badly! I am not walking away from Rovers for my son (Sam) is an integral part of a blossoming Rovers youth team and as long as the people running that team are happy for me to tag along and help where I can then they can rest assured that I will be there. I love watching Sam play in the Rovers colours and you can bet your last pound that's what I'll be doing over the course of the next few season's on the Sabbath! For the record I have said I am very happy to see this season out and the plan now is for us to bank as many points as we can in what remains of the campaign and therefore finish as high as we can in the table. It merely remains for me to thank the rank and file support at Rovers, you have been wonderful from day one and I leave with so many great memories. I wish you and the club every success over the coming season's and hope that when I do return to watch the youth team people will still be talking to me! Finally, my closing words: "I did it my way."
The Rovers boss did confirm his intention to stay in the game. He said: "Yes, I am certainly wanting to stay involved and I am hoping there'll be a job of sorts in football out there for me. I can honestly say, hand on heart, that nothing has been thrown my way yet. Indeed I don't know if anyone will fancy my footballing cv? I have a 15-year association with a splendid football club. But now, certainly from this summer, I am going to be available to offers - if any are forthcoming. I am certainly looking forward to spending some time this sumer enjoying warm evening sunshine in the company my dear wife Carol watching some cricket at Knightshayes where they now have a simply stunningly majestic pavilion."
See archived news for more Rovers info....